Water Features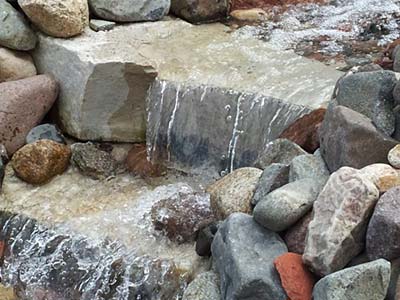 Creating a landscape involves a significant amount of creativity, skill and excellent knowledge about the different features in it and the materials used. It's also about ensuring that the right balance is maintained in that space and various features are used in the right proportion.
While every landscape has plantings and hardscaped features, there are certain elements which can be included to add a unique touch to the outdoor spaces such as yard water features. We at Grandiflora Landscaping Inc. are a full-service landscaping company that has been operating in this industry for more than 40 years.
In this time, we have catered to customers in and around Hartland, Waukesha, Oconomowoc, and Mequon. Our company has also expanded its customer base to Brookfield, Milwaukee, as well as Watertown. We have successfully completed a significant number of water feature installation projects across Menomonee Falls, Germantown, Pewaukee and the surrounding areas.
Custom Water Feature Plans
For the large part, the water features we install are part of a larger landscape project. But if you need a rock waterfall or stone fountain installed in an existing garden, we can provide those services as well. When it comes to water feature design, the sky is the limit and we work very meticulously to provide solutions that complement the appearance of your landscape and the theme used in it. The different water features we can install for you include:
Waterfalls - These features can be designed in the style you want; so if you have a more formal styled landscape, we can design a waterfall that fits beautifully into that concept. On the other hand, if you have a more casual-styled landscape, we can plan a waterfall that built using rough-hewn natural stones of different colors and shapes. This creates a unique display in your landscape.


Ponds - Many people like the idea of a pond in their garden and in some cases this may be built at the bottom of the waterfall. If you prefer an isolated feature, we can build that too and a Koi pond can be a great addition to your yard as well. Adding aquatic plants and Koi fish will lend it a charming appearance and feel. Such ponds can be a high-maintenance feature and need to be planned and installed expertly.
Yard Water Feature Plans
If you like custom fountain installations or bubbling boulders, we can design and install those for you as well. As mentioned earlier, when it comes to water feature design, the sky is the limit. A well-designed waterfall that's been built using good-quality materials adds to the beauty of your landscape and creates a tranquil and cheerful space in your yard. It becomes the perfect spot to enjoy leisurely moments with your family and friends.
If you are looking for excellent water feature design and installation solutions, Grandiflora Landscaping Inc. is the company to come to. We handle every aspect of these projects and make sure you get high-quality solutions at a very competitive landscape waterfall cost. For any more information about our services feel free to contact us at 262-370-3985. You can also send us your project details via this Online Form and one of our experts will contact you shortly.