Fire Pits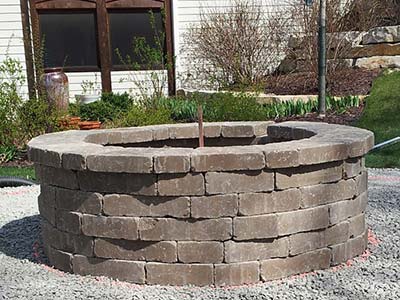 A fire pit can add a charming yet functional dimension to your landscape. It can serve as a focal point for entertaining or provide a cozy place to relax with family. When Fall brings a nip in the air, a fire pit can extend the enjoyment of your landscaping as the weather gets cooler.
Fire Pit Design and Installation
In most cases, our customers request a fire pit installation as part of a broader landscape project. But if you want to get this structure installed in an existing yard, we can do that too. Here are some facts about outdoor fire pit features:
A fire pit is a great choice if you feel that you don't want to install a large and elaborate fireplace.
The fire pit can be installed in almost any area of your yard.
The element can be built with manufactured block or natural stone.
The fire pit can be filled with recycled glass or river rock.
We can also design and plan the area around the fire feature and can install pavers around it.
If you prefer, we can also design and install half-height walls with inbuilt seating along the periphery of the paved space around the yard fire pit.
Custom Fire Pit Plans
When we handle your patio fire pit design and installation project, you have the assurance that the work will be completed very methodically and professionally. Our on-site supervisor will make sure that the work is completed to very high-quality standards and within the stipulated timeframe.
If you are looking for excellent start-to-end landscaping solutions, Grandiflora Landscaping Inc. is the company to come to. We handle every aspect of these projects and make sure you get top notch solutions at a very competitive fire pit cost. For any more information about our services feel free to contact us at 262-370-3985. You can also send us your project details via this Online Form and one of our experts will contact you shortly.