Arbors & Pergolas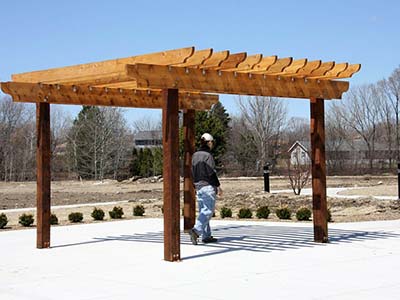 Creating outdoor spaces that are uniquely appealing is about opting for special outdoor features that will add to the functionality and beauty of the outdoor areas of your property. While many homeowners like to add features such as a patio, deck, and outdoor kitchen, some want simpler, yet elegant elements that will give them the chance to use the available space in an optimal manner.
As expert landscape designers, we know that features such as pergolas and arbors work very well in most landscapes. You also need to ensure that these features are designed and installed by experts if you want them to be stable and durable.
Pergola Design and Build
A wooden pergola is a structure that can be installed in any section of your yard. Many property owners have it installed over their deck or patio to provide filtered shade. We can custom design a pergola to fit your specific location needs.
Arbor Design and Build
An arbor is a smaller variant of a traditional pergola. It can be positioned at a strategic point over a walkway or path or even at one end of the garden. If you want to create a seating space under the arbor, we can design a larger feature and build a garden bench that can be placed under it.
Whether you want an arbor or a pergola, we can custom design and build these features for you. If you are looking for excellent outdoor features, Grandiflora Landscaping Inc. is the company to come to. We handle every aspect of these projects and make sure you get high-quality solutions at a very competitive pergola installation cost. For any more information about our services feel free to contact us at 262-370-3985. You can also send us your project details via this Online Form and one of our experts will contact you shortly.