Outdoor Furniture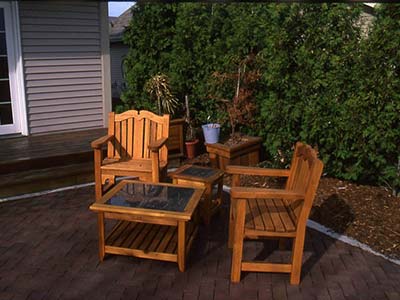 Every homeowner likes to ensure that their yard spaces are designed and planned well as that allows them to use these areas in a more optimal manner. In addition to the various hardscaping features that you get installed, you also need some outdoor furniture. This may be placed on the lawns, patio or deck areas or even in the poolscape. While it isn't difficult to find readymade outdoor furniture, you may not always be able to get the type of pieces that will complement the styling of your yard; this is where we can help.
We at Grandiflora Landscaping Inc. are a full-service landscaping company that has been operating in this industry for more than 40 years. We have been catering to customers in and around Hartland, Waukesha, Oconomowoc, and Mequon for a number of years. Our company has expanded its customer base to Brookfield, Milwaukee, as well as Watertown.
Wooden Yard Furniture - Design and Installation Process
We have successfully completed a significant number of outdoor furniture designs and build projects across Menomonee Falls, Germantown, Pewaukee and the surrounding areas.
When you call us with your requirement for outdoor patio furniture our experts will have detailed discussions with you to understand what your requirements are.
They will also provide some recommendations of their own based on these discussions.
You will be provided designs and our expert will also show you different materials and explain what their pros and cons are. This helps you make a more well-informed decision about the deck furniture you want. For example, if you already have some cedar wood elements in your yard or on your deck, they may recommend that you get cedar wood chairs and tables for the area.
Since these features will be specially designed for your patio, deck or other outdoor space, you can rest assured that it will fit right in and enhance the appeal of your yard.
Other Outdoor Wooden Features
In addition to chairs, tables and custom garden benches, we can also construct features such as wooden planter boxes. Our designers will take detailed measurements of the space they are to be installed in and will plan the shape and size of the box accordingly. This means, the piece won't stand out like a sore thumb and will be proportional to the space it is installed in.
We can also provide excellent wooden bins that can be used to store gardening equipment, tools or manure etc. These bins could be built against the exterior wall of your home and will have shutters and a roof. If you like, these features can be isolated from the main structure of your home and will be a standalone structure.
When we handle this job, you can rest assured that the best materials will be used in the work and that the workmanship will be top of the line. If you are looking for excellent garden furniture, Grandiflora Landscaping Inc. is the company to come to. We handle every aspect of these projects and make sure you get high quality solutions at a very competitive outdoor furniture cost.
For any more information about our services feel free to contact us at 262-370-3985. You can also send us your project details via this Online Form and one of our experts will contact you shortly.