Landscaping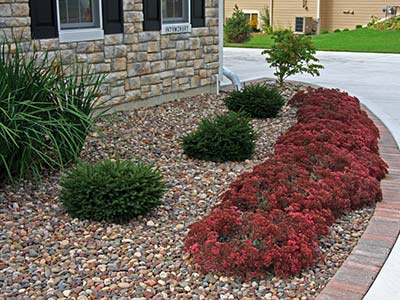 When you are planning your landscape design, you have some ideas in mind. This also means that when you hire a local landscaping contractor, you want the assurance that they will be able to understand your requirements, work on your ideas and provide you the kind of solutions that will give form to your vision.
In addition to this, you also need these professionals to provide you advice on the different types of materials available, and their input on landscape design ideas that will add to the functionality and attractiveness of their landscape. We at Grandiflora Landscaping Inc. are a full-service landscaping company that has been operating in this industry for more than 30 years.
We have been catering to customers in and around Hartland, Waukesha, Oconomowoc, and Mequon for a number of years. Our company has expanded its customer base to Brookfield, Milwaukee, as well as Watertown. We have successfully completed a significant number of projects across Menomonee Falls, Germantown, Pewaukee and the surrounding areas.
Different Aspects of Landscaping
As experts that handle every aspect of the job, we take into account the design, planning, and placement of features such as:
Softscaping - This planning involves deciding which plants and trees will fit in well with the style and theme of your overall property. Our experts may recommend including perennials, annuals, flowering and fruiting trees based on your specific needs. They will also help with lawn installations.


Hardscaping - This involves the design and installation of the different hardscaped features of your property such as patios, decks, pathways, walkways pillars, garden steps and other paved areas.


Water and Fire Features - Many homeowners like to add waterfalls, fountains, ponds, fire pits and fireplaces to their landscape. We custom design these elements for you.
Custom Designed Landscapes
Aside from this we also design and build retaining walls, outdoor features such as pergolas and arbors, fences, pillars and boundary and garden walls. All these elements have to be used in the right proportion to create a well-balanced landscape that will be welcoming, practical and aesthetically appealing all at once. We are the expert residential landscapers that focus on providing our customers value for money. It's why we use the best materials in our work and deploy skilled and experienced personnel in every job.
Not only do we handle the designing aspect of your landscape, but also handle all the installation and project management professionally and efficiently. We are very transparent in our approach to our work and always make sure that the project is completed to industry standards. This helps ensure that you get landscapes that will provide you years of trouble-free service.
If you are looking for excellent start-to-end landscaping solutions, Grandiflora Landscaping Inc. is the company to come to. We handle every aspect of these projects and make sure you get high-quality solutions at a very competitive landscaping cost. For any more information about our services feel free to contact us at 262-370-3985. You can also send us your project details via this Online Form and one of our experts will contact you shortly.