Landscape Maintenance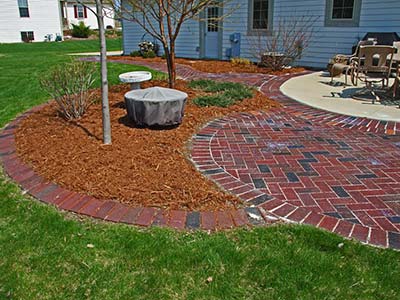 Landscapes lend a very green and alive look to any property. When you have expertly designed and installed outdoor spaces, you are encouraged to use them more often. Hiring expert landscape designers, planners, and installers will only ensure you have high-quality landscaping that will be appealing to the eye.
But that isn't enough; if you want the yard spaces to stay looking that way, you also need to make sure that all the features on your property are maintained with regularity. This is where our excellent residential landscape maintenance services come into the picture. We at Grandiflora Landscaping Inc. are a full-service landscaping company that has been operating in this industry for more than 40 years.
We have been catering to customers in and around Hartland, Waukesha, Oconomowoc, and Mequon for a number of years. Our company has expanded its customer base to Brookfield, Milwaukee, as well as Watertown. We provide ongoing landscape maintenance to a number of property owners across Menomonee Falls, Germantown, Pewaukee and the surrounding areas.
Yard Maintenance Plans
Landscape maintenance isn't something you can leave to inexperienced gardeners. We have the expertise to handle every aspect of yard care in a professional manner. Our landscapers understand that every landscape is different and it's why we provide customized landscape maintenance services. You can opt for weekly, monthly, quarterly, bi-annual or annual plans. Based on the features that exist on your property, these plans could include:
Softscape Maintenance Services
Mulching of beds
Lawn mowing
Lawn treatments
Weeding and weed control treatments
Insecticide and fungicide spraying
Leaf & debris removal
Tree and shrub pruning
Aeration
Planter bed maintenance
Dead-heading
Emerald Ash Borer injections
Flower bed maintenance
Drainage & irrigation checks
Sod installation & repair
Seeding lawns
Fertilization
Runoff checks
Hardscape Maintenance Services
Most of our landscape care contracts also cover hardscape maintenance which can include:
Pressure-cleaning of the paved areas
Seal coating pavers
Pressure cleaning masonry elements such as retaining walls, garden walls and boundary walls; stone pillars, address pillars
Cleaning fire features - fire pits and fireplaces
Cleaning water features- fountains, waterfalls & ponds
Removing sap, rust and motor oil stains from patio and deck flooring
Clearing debris from the hardscaped areas
Spring Clean-Up Services
Our company also offers custom spring clean-up services that include:
Perennial cutbacks
Leaf & debris removal
Bed edging
Pruning of dead/diseased/unwanted foliage on trees, shrubs as well as perennials, ornamental plants
Pruning broken/damaged shrub limbs
Leaf and brush removal
Pruning broken/ damaged branches and trees
Removal of dead/old/unwanted/diseased annuals & ornamental flowers
Other
We are the landscape maintenance contractors that make sure every job is handled expertly. Only organic manure and non-toxic products are used in our lawn care and garden care projects. This helps keep your plantings healthy and resilient. If you are looking for excellent start-to-end landscaping solutions, Grandiflora Landscaping Inc. is the company to come to.
We handle every aspect of these projects and make sure you get high-quality solutions at a very competitive landscape maintenance cost. For any more information about our services feel free to contact us at 262-370-3985. You can also send us your project details via this Online Form and one of our experts will contact you shortly.