Decks & Fences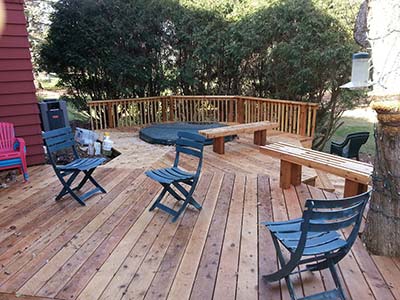 The outdoor spaces of your home are a definite value-add and if you plan them well and make sure that expert landscape contractors handle the installation, they will provide you a good return on investment. When you are getting any outdoor structures installed, you should choose them wisely; the feature should be functional, add to the ambience of the yard and increase the value of your property as well.
With this in view, it's a good idea to get a deck installed. Just like a patio, anIpe deck can also be an extension of the indoor areas of your home. If it is designed with care using the right materials; it can last for a number of years without any trouble. We at Grandiflora Landscaping Inc. are a full-service landscaping company that has been operating in this industry for more than 40 years.
Custom Deck Design and Installation
We have been catering to customers in and around Hartland, Waukesha, Oconomowoc, and Mequon for a number of years. Our company has also expanded its customer base to Brookfield, Milwaukee, as well as Watertown. We have successfully completed a significant number of residential deck installation projects across Menomonee Falls, Germantown, Pewaukee and the surrounding areas. There are a number of different things we take into account while designing your deck such as:
The available space and location of the deck
Materials to be used- cedar, composite, ipe etc
Whether you needsingle-level deck or a multi-level one
Will the deck lead out from your house to a pool area?
Whether you need steps and a railing for the deck
Other special requests about the design of the feature
Custom Fence Design and Installation
Fencing is probably one of the very first things homeowners get installed when they move into any property. A fence adds to the security and safety of the property and acts as a deterrent to trespassers. Depending on its design, it can improve the privacy levels of your property. If you have kids or pets, a well-designed fence can provide additional safety and prevent them from wandering off your property. With all these things in view, it becomes important to get a good fence installed. Based on your requirements we can install residential fencing made of timber, aluminum, vinyl, composite etc.
Fence and Deck Installation Cost
Our designers will ensure that the fence they plan is styled to complement the aesthetic of your landscape. We also make sure that the materials used in the fencing and deck features are weather-resistant and the actual installation is handled by experienced and skilled installers. This improves the resilience and the longevity of the features and provides you value in the long term. If you are looking for excellent fencing solutions, Grandiflora Landscaping Inc. is the company to come to.
We handle every aspect of these projects and make sure you get high-quality solutions at a very competitive landscaping cost. For any more information about our services feel free to contact us at 262-370-3985. You can also send us your project details via this Online Form and one of our experts will contact you shortly.